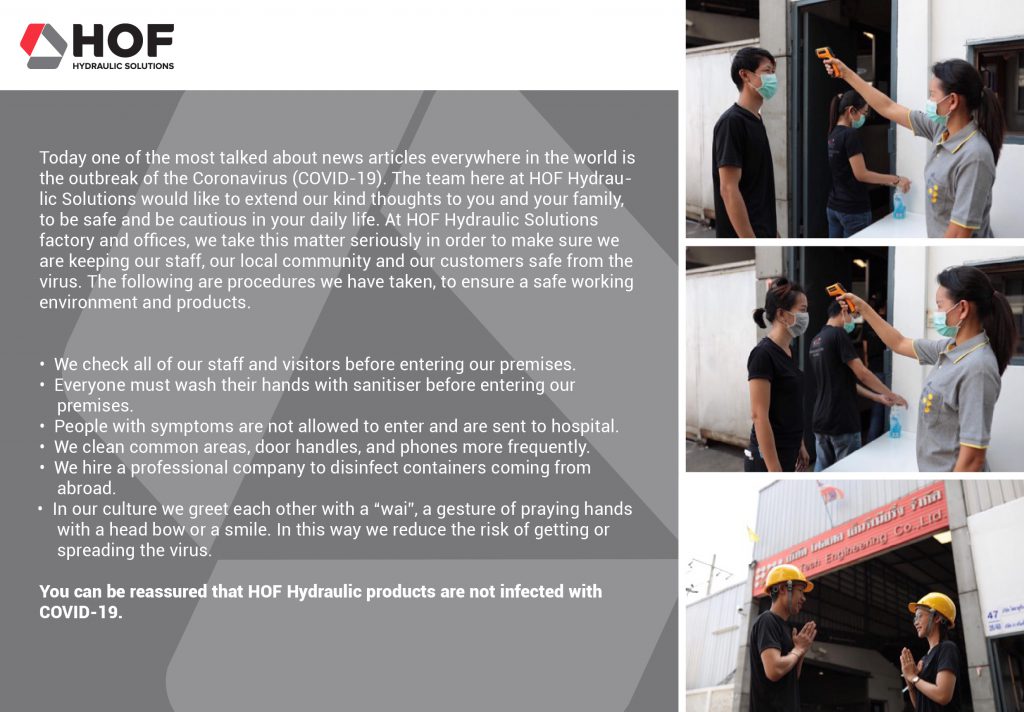 Precaution to Prevent Novel Coronavirus, COVID-19
Today one of the most talked about news articles everywhere in the world is the outbreak of the Coronavirus (COVID-19). The team here at HOF Hydraulic Solutions would like to extend our kind thoughts to you and your family, to be safe and be cautious in your daily life. At HOF Hydraulic Solutions factory and offices, we take this matter seriously in order to make sure we are keeping our staff, our local community and our customers safe from the virus. The following are procedures we have taken, to ensure a safe working environment and products.
We check all of our staff and visitors before entering our premises.

Everyone must wash their hands with sanitiser before entering our premises. 

People with symptoms are not allowed to enter and are sent to hospital.

We clean common areas, door handles, and phones more frequently. 

We hire a professional company to disinfect containers coming from abroad.

In our culture we greet each other with a "wai", a gesture of praying hands with a head bow or a smile. In this way we reduce the risk of getting or spreading the virus. 
You can be reassured that HOF Hydraulic products are not infected with COVID-19. 
HOF Hydraulic Solutions
Your Partner For A Better Tomorrow