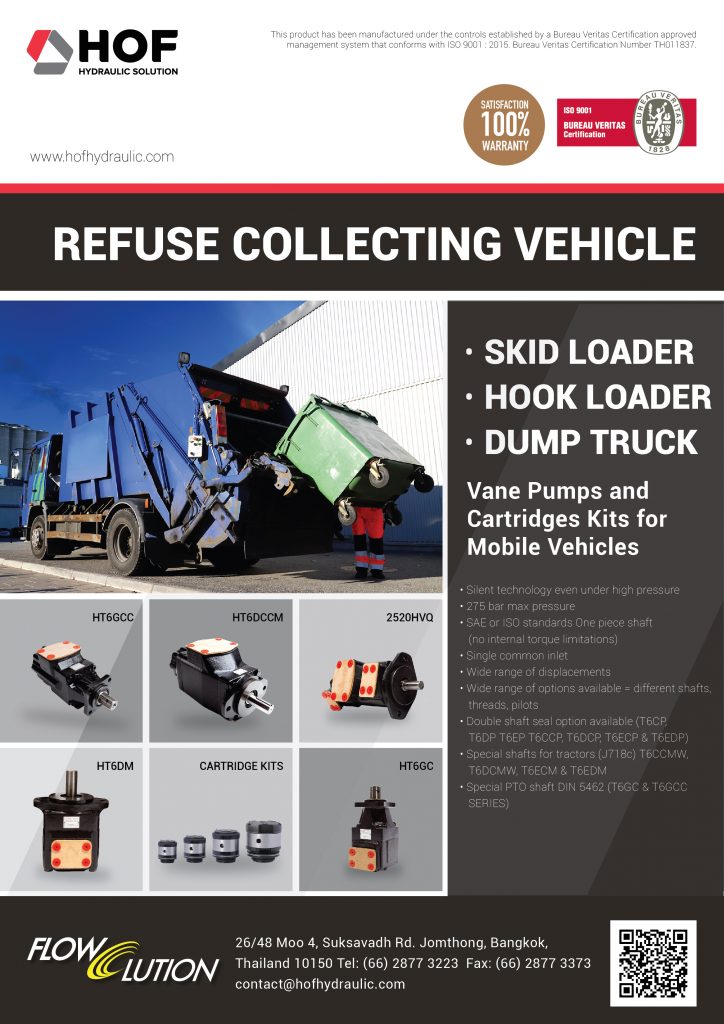 Vane pumps for Refuse Truck
HOF Hydraulic solution for Refuse Vehicles
HOF fixed displacement vane pumps combine high efficiency with low noise characteristics making them an excellent choice for a broad range of refuse vehicles.
Key Features are
Low Noise
SAE or ISO Standards
One-piece shaft (no internal torque limitations)
One inlet
32 porting orientations available
Wide displacement possibility
High power to weight ratio
Wide range of options for shafts threads and pilots
Mobile cartridges design for cold start conditions
With strictly Quality Control procedures and Top Speed Delivery time make us one of the most reliable manufacturer of Vane Pumps for Refuse Vehicles. Whether they are for OEMs or Resellers or Operators.
Visit our products offer on HOF solution for Refuse Vehicles click here
SINGLE PUMPS HOF T6CM T6DM T6EM T6GC T7BS
DOUBLE PUMPS HOF T6CCZ T6CCMW T6DCMW T6CCM T6GCC T6DCM HT6EDM HT7DDS HT7DBS and more
TRIPLE PUMPS HOF T6DCCM T67DCB T7DBBS T7DDBS T67DDCS
#hofhydraulicsolutions
#yourpartnerforabettertomorrow